About the Book
Afghanistan: 179 Days of Teachable Moments
(published: October 3, 2014)
While deployed for more than 179 days in Afghanistan's hostile war zone, Florence Robyn Smith captures inspirational nuggets God used to teach her about His nature and how life experiences relate to His Word. She experienced extreme danger and high risks of insurgent attacks while serving as an integral member of a team of professionals assigned to one of the nation's most sensitive missions in Afghanistan.  During this mission, she extracts "life lessons" from simple, and at times, traumatic experiences and unfolds them into practical wisdom and spiritual insights.
Florence invites you to share in her amazing journey while working for the Department of Defense.  She reveals how a 53-year-old grandmother (sporting two weapons, 35 pounds of individual body armor, combat boots and a helmet) completed her mission as Executive Officer for a Compound located in Kabul, Afghanistan: a city filled with threat tributaries flowing toward an ambiguous future.
---
Purchase Your Autographed Copy Today!
In the PayPal notes section, please provide the name as you would like to see on the autographed page.
FREE Shipping and FREE Pen with your order!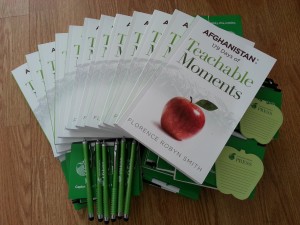 ON SALE:  $12.00